Is the Future of Physical Retail DIY?

5 min read
Published March 22, 2023 | Last Updated December 2, 2023
Shoppers young and old say they are looking for more ways to inform, compare and self-serve when shopping in the store.
We used an online platform to survey 1,600 Americans over two days, asking them multiple-choice questions about their shopping preferences and the effects that in-store signage could have on the frequency of shopping at physical retail locations.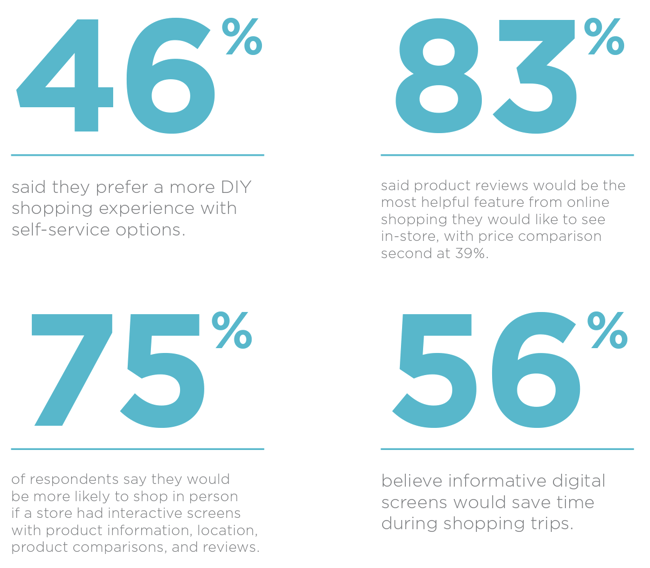 In today's technology-driven world, life seemingly exists first online. Whether Americans are working virtually or shopping at their favorite online retailer, a digital transformation is well underway.
Despite many of life's everyday activities, including shopping, now accessible virtually, the in-store experience is still valuable to American consumers. In fact, one key retail shopping statistic has remained unchanged: 60% of people say they prefer to do their shopping online. That's the number we found in our recent survey of shoppers, and, going back a few years, you'll see a number very similar repeated in study after study.
So, even though many Americans—even the reluctant ones—have dabbled in online shopping, many still desire the in-store shopping experience. And almost all of them—online shoppers or not—could be persuaded back into the stores. Bringing the digital experience into traditional retail settings is the key to attracting online shoppers back into stores.
Despite their preference for shopping online or in person, almost all consumers say the right technologies could lure them back to the physical location.
Most shoppers who favor an online experience do so because it's convenient. After all, it's easy to compare products and prices online. And it's hard not to like a well-targeted recommendation. Plus, for better or worse, because the online shopping experience is self-guided, there's no unwanted sales pitch from an employee on the floor.
But what if you could recreate much of what's desirable about the online experience in the real world? Would that be enough to bring online shoppers back to the store? According to our findings, the answer is yes.
There's something about being able to touch a product—to hold it, to see its size, to feel its weight, to inspect its quality—that consumers crave. For 67% of respondents, seeing the product in person is what they miss most about in-person shopping. But even that isn't enough to get some of these digital-first shoppers to return to the stores. So, what is? From what they told us, it's bringing the digital experience into the real world. They want to be able to educate themselves. They want to be able to compare prices. And they want to be able to do it all through self-service technologies that allow them to move the shopping experience along at their own pace.
In fact, more than half of respondents said easy access to product reviews would be a feature of online shopping that they'd like to see replicated in physical stores. Second, the ability to compare prices could make in-person shopping more appealing.
The key, then, is putting the customer back in the driver's seat when it comes to the in-person shopping experience. It means putting in place the technologies that allow them to closely mimic what they love about online shopping—the convenience. And for those retailers that embrace these shifting preferences, there may be a chance to lure online shoppers back into the store. Of those respondents who do most of their shopping online, nearly 50% said informative, interactive displays would be the most enticing feature for them to shop in person.
Informative, interactive displays could entice half of all shoppers who do most of their shopping online to return to physical stores.
Digging Deeper
An immediate opportunity for some retailers
Many retailers already understand that digital screens are a must-have element of the customer experience if they want to catch and hold a busy shopper's attention. That's why so many have already invested in digital signage programs. But we were curious whether most shoppers even notice the screens when they entered a store or if they were simply regarded as visual noise. Among younger shoppers, those aged 18 to 44 and most likely to shop online, digital screens were noticed exactly as often as print signage.
Digging a bit deeper, those same shoppers also seemed to understand the potential of those screens to be used in ways that could improve their in-store experience. For retailers that are prepared to move quickly to shift their digital signage strategy, there appear to be opportunities to capture new customers.
Of shoppers who say digital screens are the most noticeable in-store feature: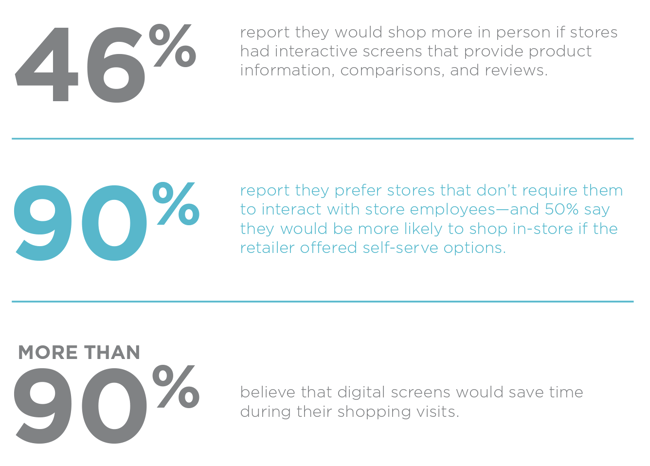 Millennials highlight the need to offer self-serve options
Shoppers both young and old are looking for more opportunity to control their shopping experience from beginning to end. But more than any other group, Millennials indicated that, with the right technology, they were the most open to that shopping experience happening in a physical store. That's a statistic that should be a boon to retailers since it indicates they haven't lost some of their younger customers, something that leaders in other industries surely wish they could say.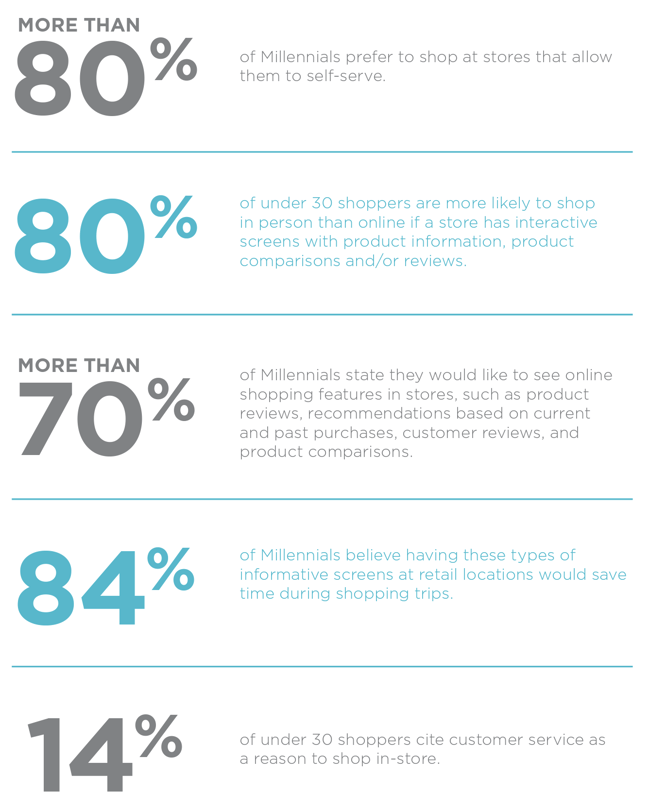 We hear a lot and worry, sometimes properly, about how much of our life is shifting away from the physical to the digital. Stories in the media about online shopping and a rapid rise in e-commerce purchases can give the impression that the physical retail store is a dinosaur, something that will soon go the way of newspapers and CDs. But that narrative isn't necessarily reality.
Most purchases still happen in the physical store, and online purchases are still a small percentage of revenues for many retailers. But resting on those statistics and hoping that they don't change is foolish. Retailers need to be doing what they can now to slow those changes. Luckily, they can, and respondents told us how.
The appeal of the online shopping experience is the ability to self-serve, the ability to easily compare products and the ability to self-educate on solutions. With the right technologies, though, none of that must be something that's exclusive to the online experience. Using technology that many large retailers already have in place—digital signage—they can give those shoppers the online, self-serve experience they enjoy in the physical store.