Why Retail Media Networks are the Future for Stores

6 min read
Published March 22, 2023 | Last Updated December 2, 2023
Insider Intelligence recently positioned retail media as "the third and biggest wave of digital advertising". For context, the first wave was search, led by Google in the 2000s, and this was followed by social media, led by Meta in the 2010s. New data estimates the value of digital retail media advertising could increase to more than $168 billion by 2027. It's no wonder that retailers are perking up at the term and looking to retail media networks (RMNs) as the primary form of advertising in the 2020s.
💡Traditional media is about mass impressions and awareness. According to Forbes, retail media is about reaching individual shoppers at or near the point of purchase, or point of choice between two products, brands, or actions.
Media networks are in-store digital advertising that utilizes a publisher's own properties and data; therefore, any brand with data can make a media network. The data that powers (and is gleaned from) these networks has unparalleled value and potential for personalization, monetization, and efficiency. Here's what retailers need to know about these impactful networks to set them up for success.
READ MORE: 3 Ways To Rethink Omnichannel Customer Experience In Stores


What Are Retail Media Networks?
A retail media network can be defined as an in-store digital advertising infrastructure that comprises a collection of digital channels, like websites or apps, that are offered by a retailer to third-party brands for advertising purposes. The power of these networks is that they help deliver contextually relevant ads when people are shopping, based on first-party shopper data that provides closed-loop measurement and a clear sightline into return on ad spend.
Importantly, purchasing ad space on a retail media network can help brands of all sizes expand their digital marketing strategies at scale. Therefore, brick-and-mortar retailers are a fast-growing new media channel offering brand advertisers a formidable avenue to get to shoppers through their website, their mobile app, or as part of digital signage in stores.
The key to the success of retail media networks is their first-party data. This data informs where advertisers will find it most effective to get their message in front of shoppers based on a variety of behavioral factors and attributes. Retailers offer advertisers the most valuable currency of all: an in-depth understanding of their (prospective) customers. This data shapes how to best tailor offers, messaging, and content for advertisers to inspire action or influence behavior.
A Curated Shopper Journey
By definition, retail media networks are omnichannel; meeting the customer wherever they are in their shopping journey. If shoppers are building a grocery list at home, shopping on a grocery retailer's website, using their mobile app for a pharmacy run, or browsing aisles in-store, retailers can connect the dots for shoppers in a way that automates, curates, and focuses messaging based on critical data parameters.
An excellent example of how this works is Macy's. Macy's shoppers might start their discovery process on the Macy's website. Then, when in-store, the mobile app might serve them contextually relevant messages and reminders (which could also be reinforced by the in-store digital signage network). What shoppers seek out, like what's trending or what brands and items are most popular, can be measured and aggregated. This invaluable first-person data can then be served back to shoppers as a means to provoke and encourage certain behaviors in stores.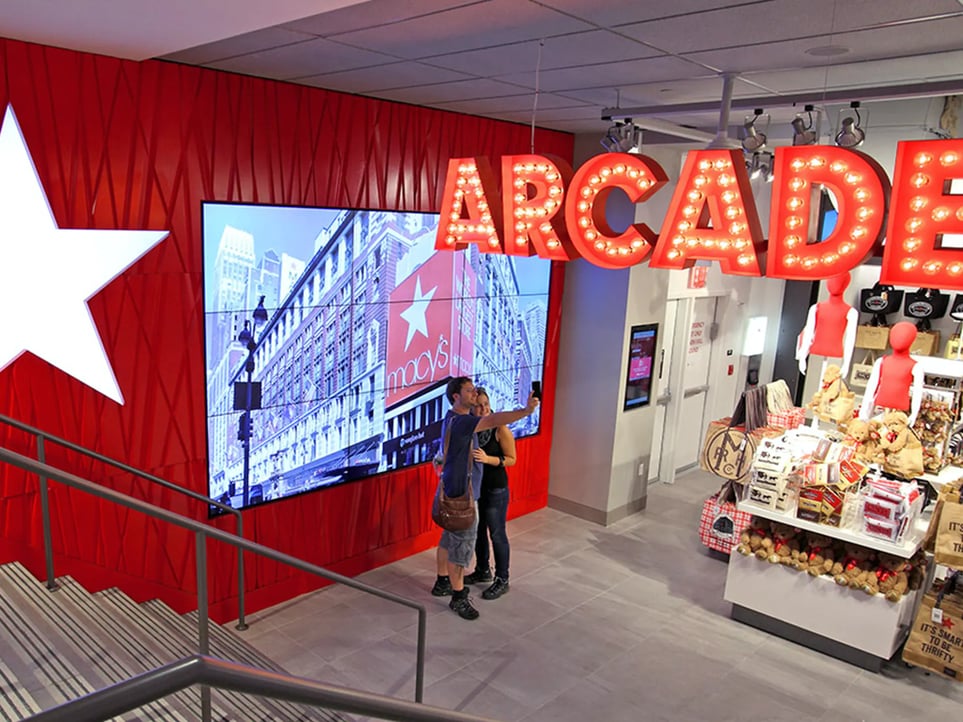 Similarly, Sam's Club, the American chain of retail warehouse clubs owned and operated by Walmart Inc., recently introduced real-time retargeting display ads for mobile. The chain now leverages first-party member data, advertiser data, and AI-powered behavioral insights to increase ad effectiveness and personalization. The functionality uses data from club members to better serve interested customers and decrease irrelevant ads. This is an example of how retail media networks can both improve customer experience and streamline ad spend to warm audiences.
The media network flywheel can also improve shoppability at shelves, as it helps visual merchandising teams stock and feature items that are most popular or topical. This data-driven merchandising allows retailers to drive additional revenue by selling adjacencies to what's most popular – all through media monetization. In-store software platforms are key to how this can get done, at scale, across multiple locations and footprints.
READ MORE: 3 Key Takeaways From NRF 2023


Data Monetization Potential
In-store analytics like traffic and full path analysis, are all viable ways to measure shopper engagement. As a metric, engagement helps establish a pricing scheme for third-party visual merchandising or investment in the retailer's marketing ecosystem.
The basics remain true: good data breeds better results and the best ROI. Impression generation metrics and CPM (cost per mille) can be calculated once a store location has accurate footfall data. Critically, this type of data allows retailers to create a viable monetization engine they can sell to marketers.
It is important to note that data monetization can be achieved while still complying with data privacy standards and regulations, no matter where the network functions. As retailers dip their toes into the waters of data monetization, the onus is on providers to ensure compliance with both local and international privacy best practices. For retailers, choosing GDPR/CCPA-compliant platforms is essential to winning the trust of customers. Increasingly, users are demanding greater control over their own data and heightened accountability from platforms. When retailers partner with compliant platforms, they can more easily reassure participants with optimum data safety.
On the ground, the best content management systems include a monetization engine that is intelligent enough to know key digital marketing asset details including the location data, screen type, and hours of operation across the venue. This enables the platform to look ahead and forecast how many ads will need to be played by location for each digital signage system that's operational. If there's any disruption in screens (wifi outages or down screens, for example), the algorithmic engines balance playback throughout any campaign to meet exact targets so that the brand gets the exposure required to meet campaign objectives.
What's vital is that monetization software provides APIs for exporting data to other analytics or business intelligence tools, allowing retailers to garner trust and fidelity from the advertising community through data access. This allows them to evaluate in-store media similarly to how they would measure any other digital out-of-home media buy.


The Digital Signage Update
Brick-and-mortar retailers should also take advantage of retail media networks by extending the platform's power to in-store digital signage. Doing so creates a viable new revenue generation opportunity, offering brands a highly targeted way to get in front of their desired audience with a "pay to play" model.
When combined with in-store analytics, retailers can also accurately measure what messaging mix motivates conversion. This AI layer can then inform how content should react depending on behavior patterns, thereby removing the guesswork and cost of conventional in-store marketing materials.
Another benefit of embracing media-friendly digital signage is the potential to defray and fund the capital expense associated with the digital signage component of visual merchandising. It is a way for retailers to create a closed ecosystem with a digital out-of-home network to be able to generate media money to either partially or fully fund the initial investment.
Moreover, the switch to digital signage is a move towards sustainability, a core shopper concern. Optimized digital signage prevents retailers from having to constantly produce conventional paper signage, display kits, and paper merchandising which deplete natural resources, are harsh on the environment, and require shipping.
Digital signage has a 5-10 year lifespan that automates digital assets and allows changes to occur in real time. This saves time on merchandising, production and installation costs, and natural resources. Plus, this approach allows retailers to amortize campaigns across channels from home to mobile to store, making it supremely financially sustainable as well.
With access to customer purchase data, preferences, and shopping journeys, as well as the ability to put brands in front of consumers when they're most willing to be influenced, the popularity (and resultant rollout) of retail media networks is set to boom in the coming years.
With the right strategy and implementation, retail media networks are an excellent way for retail businesses to engage with customers, build brand loyalty and increase sales. By leveraging the power of these networks, retail businesses can effectively target their customers, create a more engaging shopping experience, and drive conversion through personalization.
LEARN MORE: Why RetailNext And Creative Realities Are Better Together